Stilt walkers fighting for more than 600 years
Since 1411, two stilt walkers' teams of Namur (Belgium) have confronted one another relentlessly. On the one side, the 'Mélans' from the old city with their yellow and black stilts. On the other, the 'Avresses' coming from beyond the walls on their red and white stilts.

Their spectacular fights have pleased Emperors and Kings. Charles the Fifth, Louis XIV, Peter the Great from Russia, Napoleon… all of them attended a stilt walkers' fight given by the Stilt walkers of Namur.

Nowadays,the two teams still fight on stilts and take part in a lot of events and processions in Namur, in Belgium and in the entire world.
More about the stilt walkers of Namur »
---
Contact Information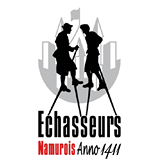 Do you want some information?